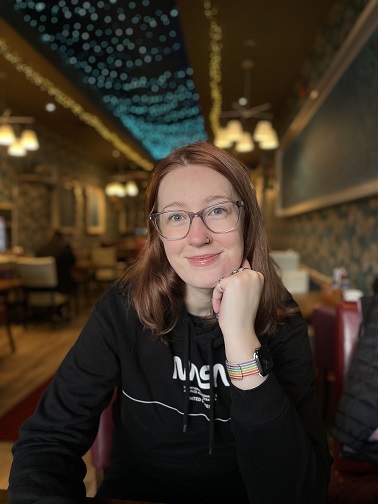 Science, Biology, General Maths
When did you start working at Alia?
2020
Tell us about something interesting you did in class?
A lot of my teaching career has been through lockdown, so there have been some creative uses of my desk at home to get students engaged in Science while online, including expanding a balloon with the respiration (production of carbon dioxide) of yeast, which made our study smell like Vegemite for a day or so!
In person, the Juniors and Seniors alike love making things in Science, including a working water-well out of craft materials, models of cells as well as Lego molecules. They also like arguing about things, so last year the Year 10s debated about which planet/moon would be viable for human settlement in the future.
What do you enjoy about teaching your subjects?
My favourite moments in Science are the 'ah-ha!' moments. This could be after I've answered a scientific question they've been wondering about for years, or have seen a cool reaction in an experiment. I love getting kids enthused about Science, as it is how we answer curious questions about the world around us, and the lessons that are full of discussion and tangents can be my favourites.
What do you like about working at Alia?
Because Alia is such a small school, the relationships formed between the student and teacher are arguably much stronger than is possible at a larger school. I know every student's name and their story, and this means there are many more opportunities to support their growth as people.
What do you get up to with your time outside school?
Looking at I attend choir rehearsal once a week – I've been part of this choir for 18 years, since I was wee, and get to hang out with all my closest friends! Other than that I hang out with my partner at zoos, farmer's markets and museums (and sometimes Costco). I like to be in nature, and you can often find me in a park, looking up in the trees to identify birds or because I saw a cool bug.