"I must admit I never quite realised the level of accelerated learning, the teaching style and the encouragement of student inquiry that was the basis of Alia College." – Former parent
Alia College offers a varied curriculum aimed at success in Year 12. It goes beyond the requirements of the state and federal government curricula and includes Mathematics, Science, English, Philosophy, Humanities, Health, Drama, Media, Cooking, languages such as Latin, Japanese and French, PE, Art, Music, work experience, and outdoor education. Alia also offers many opportunities for individualised study.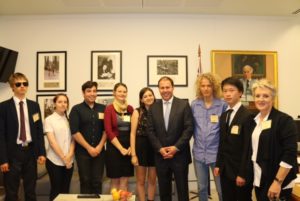 At Alia College, students can expect academic challenge (at their own level) in a variety of forms, including traditional instruction, projects, open-ended explorations, experimental learning and direct testing.
Academic Focus
Our excellent results come from the quality of education here. There is no entrance examination. Students are not expected to be high achievers in order to enrol here, however, scholarship entry is available to exceptional students.
Our approach strongly supports students who wish to be proactive in their own education and encourages students who have been discouraged. Being a small school, we can readily accommodate students' differing learning styles and academic strengths. And because class sizes are small, students can be accommodated and listened to. Students have almost one to one tuition. We hire teachers who show love for their subjects and who are able to present their discipline without the support of a formal rigid punishment system. Students can expect teachers who relate to them as real people. When teachers enjoy their subjects, enthusiasm is contagious. We believe in knowing our students well so that they can achieve their best.