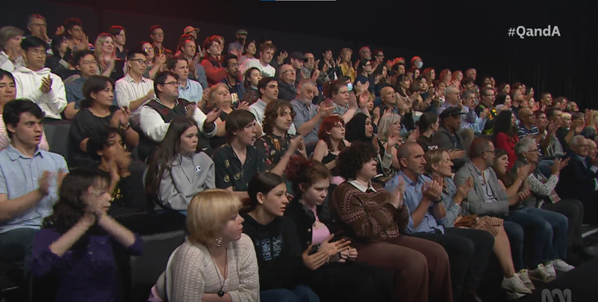 On Monday 6th March, eleven students and two staff members attended a live screening of Q&A. There were many questions, including about the military, public figures and their influence, adapting lyrics, social media and the future cost of living for young people. Ord (Year 8) also wrote about their experience at the live screening, specifically how they felt being in a live audience while having Tourette's.
Written by Ord (Year 9)
On Monday the 13th of March I was gifted the opportunity to go and see q+a live! It was challenging being in a live audience with my Tourette's, but my friends and teachers made me feel safe. At some point in the show, one of the panelists Antoinette Lattouf (political journalist) made a derogatory remark about Tourette's and how people with Tourette's swear a lot. The producers noticed this and after the show they formerly apologised on behalf of the ABC and said that language was not appropriate on q+a. Antoinette herself came up to us and sincerely apologised herself. I educated her on Tourettes telling her that only 10% of people have swearing tics and those swearing tics are called Copralailia. Antoinette then invited a few of us to be on her podcast 'The Briefing' to talk about Tourette's and popular culture in the neurodiverse community. It was very exciting as I get to educate lots of people on this very misunderstood condition! Overall the show was very interesting to watch and billy brag sang us a song! Very interesting tv show. I would totally go again!
Click the link below to hear Ord on 'The Briefing' Podcast, where they talk about their experiences with tourettes:
https://podcasts.apple.com/au/podcast/the-briefing/id1507116817?i=1000607600391