Shortly after the end of exams, on 23 November, the Alia College class of 2018 had their graduation ceremony. Held at the Augustine Centre, the ceremony was a celebration of all of the hard work, effort, and achievements of the Year 12s, and a chance to congratulate them on completing their VCE.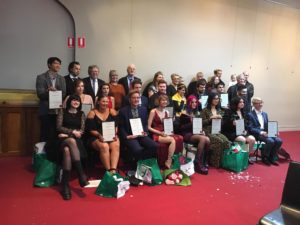 The Year 12 Class of 2018.
Bob's speech reminded them that they were now adults, going out into the world. He thanked them for choosing to come to Alia, before presenting each student with their certificate of graduation, while speaking about their individual qualities and contributions at the school.
After that, Scott, Penny, and Amanda presented the students with their graduation gifts, in the trademark humorous style of an Alia College graduation. Students also received a hand-printed class of 2018 t-shirt, and a class photo.
Finally, Jess spoke on behalf of the Year 12 group, thanking Bob and the teachers for all of their support, and for the opportunity to study at Alia.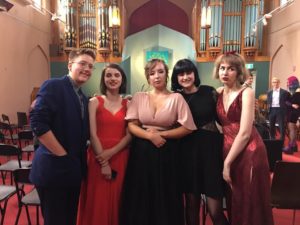 Charlie, Marina, Hex, Emma, and Elise at the graduation ceremony.
Like any graduation, Alia College graduations are a bittersweet moment; simultaneously a celebration of the culmination of 13 years worth of study and effort, and a farewell to people who have been so much a part of the school community. This year was no different, and we can say with certainty that the Year 12s will be missed.
Congratulations to the Class of 2018 on your achievements! We hope you remember Alia College fondly, and return from time to time to pay a visit. We wish you all the very best for the next chapter of your lives.