by Harriet Morgan
For the past few years Alia has benefitted from French students attending the school for a few weeks to a whole term. These visits are organised by a boutique organisation Off We Go based in France who arrange cultural and language trips /exchanges for French students. The students generally come from south-east France around the beautiful area of Provence.
Since I have been teaching French at Alia we have welcomed:
Tessa Fernandez who joined Year 10 in Term 3 of 2016
Élisa Poussardin who joined Year 8 in 2016 and returned to spend time with Year 9 in 2017
Clara Salini who joined Year 11 in Term 4 of 2017
Emma Tixier who joined Year 10 in June/July of this year.
Each of these students have brought so much to Alia, offering our students the chance to practise their French with a native speaker of their own age, as well as bringing us cultural information about France and their region surrounding the historic city of Aix-en-Provence.  
Clara Salini forged strong friendships during her time at Alia, and has returned to Australia this year to visit Nathan (son amour australien!).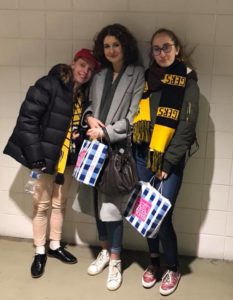 The French students stay with host families whilst here, and get to visit much of Melbourne, Victoria and often other parts of Australia, such as trips to Sydney.  
Very excitingly, later this year these visits will evolve into a Language Exchange.  Kyrill is going to be the first Alia student to visit France as part of his VCE French studies. Kyrill will be staying with Fleur Dogat and her family from late November until New Year. He will attend Fleur's high school for a few weeks, Lycée Sacré Coeur in Aix-en-Provence. Fleur will then come to Alia in Term 2 of 2019 and stay with the Ivlenkov family.