by Jessica K (Year 12)
Over the past seven months, most of us Year 12s have been raising money for our graduation coming up on the 23rd of November. The aim for us was to raise as much money as we could to have a well-deserved celebration of 13 years' schooling. Every Friday we did a bake sale; we Year 12s took it in turns to make baked goods to sell on Fridays at lunchtime, and this was a great success!
We also had Emma and Charlie organising chocolates to be sold throughout the year and this was another huge success, besides making the staff gain a few kilos (they did it for us and that is all that matters – we still love them the way they are). I would particularly like to thank Mr Joshua Lynzaat for funding out graduation by buying $97 worth of chocolate, much appreciated.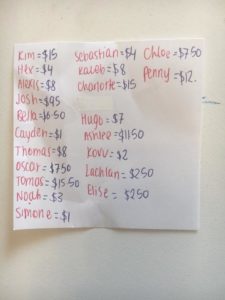 Half-way through the year I thought to myself, let's make some more money. I decided to sell baked goods at the Alia school production and this was a treat, raising double the amount we expected. All I could think about when I was counting the donations was how good our graduation was going to be.
I would like to thank all the Year 12s that helped out, and a big thank you for everyone's donations and support! All of us are looking forward to our graduation, and we hope you can all be there to see us achieve and celebrate such a milestone in our lives!