The last day of Term Two was full of excitement! We began with a whole school meeting, as per usual, but this one had a bit of a twist. At the very end of the meeting, the Junior class walked in with seven cakes, each decorated with 10 candles, singing happy birthday in Latin, as their way of celebrating Bob's 70th birthday. Students presented him with a card, and he got to say a few words himself.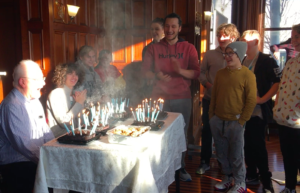 The rest of the morning continued as normal, until SuperCoAT in Period Three. For those unfamiliar with SuperCoAT, it is an hour of cleaning and tidying the school that takes place at the end of each term. Following this, there is a barbecue lunch, before another whole school meeting. 
The school day officially ends here, but many students stick around to play video games on the big TVs, or to participate in the extended soccer tournament that has become an Alia end-of-term tradition. After this, it is time to say goodbye for three weeks, and to enjoy the holidays. 
We look forward to seeing everyone again for the first day of Term Three on Tuesday, 17 July 2018. Until then, enjoy the break!