One the second-last day of the semester, Alia had it's biennial Alia Expo(sed) event. An opportunity to display what students have been working on and the skills they have picked up over the semester, Alia Expo(sed) functions a bit like White Night, though on a much smaller scale, of course. There are displays, interactive exhibits, workshops, fun tests, and other activities available to parents an community members throughout the evening.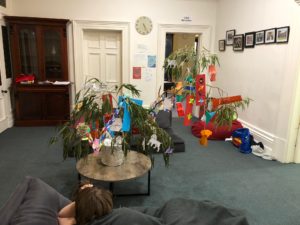 Alia Expo(sed) 2018 featured an impressively decorated Languages Tree in the upstairs foyer made by the Year 7-10 French and Japanese classes, a short film featuring the Junior English class discussing their learning and progress so far, Year 12 PE's Find out your biological age test, Music performances from all across the year levels, Year 10 Health interactive studies and activities on sex and gender, and a stage fighting workshop run by Junior Drama, to name a few. Amanda also put together a short film and resources on positive education, the Junior HaSS class turned the French Room into a Viking Room to display their various Viking-related creations, The Science Lab featured Year 9 Science's crime scene dioramas, and Moya ran mono print making in the Art Room, for those keen to make their very own bookmark.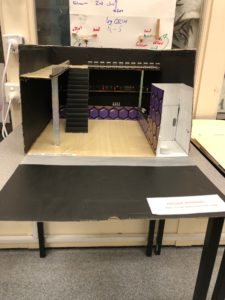 All in all, the evening was a terrific success, and a great display not only of the unique and engaging style of education happening every day at Alia College, but also of the community spirit present at such events, with staff, students, and parents coming together to enjoy Alia Expo(sed). Well done everyone!