Alia College is running its 16th trivia night on Friday, 23 February 2018. The annual Alia College Trivia Night is a night of quizzical fun for Alia College students, friends and families, and a decent number of alumni, all keen to take each other on for the grand prize – a hamper full of Ikea-purchased household items and Swedish edibles. Literature teacher and school "doctor", Scott, MCs the evening, doing a brilliant job as he reads out questions from all sorts of areas, including history, literature, pop culture, science, and language.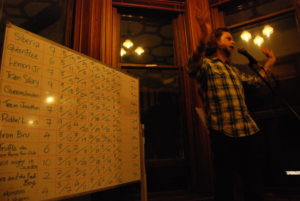 Although the night officially kicks off at 6.00pm, for many it begins a few hours earlier, with a number of students volunteering their services to help set up the hall. As with most Alia College events, these contributions from students are invaluable.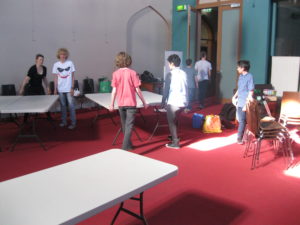 In true Alia College spirit, families bring along a plate of food to share with those who will be their teammates for the evening. Often, the Year 12 class will use the Trivia Night as an opportunity to raffle off a few prizes to fundraise for their graduation celebration.
Alia College Trivia Nights are free, and open to all. RSVP for the 2018 Trivia Night by Wednesday, 21 February, at www.trybooking.com/TSRN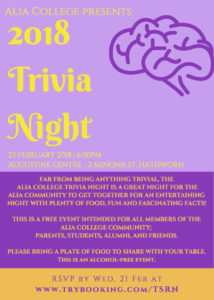 You can read a student account of the 2013 Trivia Night below:
"Every year Alia College holds a Trivia Night for students, parents and teachers to come along to where they can meet people, answer some questions (which sometimes brings out the worst in people) and just go a little crazy. This year lots of people came and joined in the fun, which was good.
So the way it works is there are about 6 or 7 tables with groups of roughly between 5 and 10 people on them. Each group gets to make up a unique team name. This year my group couldn't think of a name, so we decided to call it 'I don't mind'. Another group chose the name 'M.A.', the meaning of which will remain a secret until the end of time. There were six rounds of questions in total plus a bonus round about all the staff and what era they wanted to live in and what super power they wanted to have. Our lovely, wonderful, old French teacher, Barbara, said she wanted her superpower to be Batman… I don't think anyone guessed that one.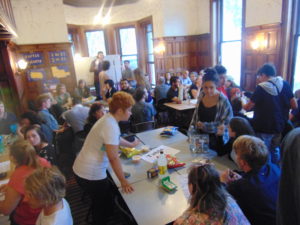 Oh, and then there's Scott… how I have so many opinions about him, both good and bad, but I shall restrain myself from going on a Scott rant and continue with Trivia Night. I will say he is a very good trivia host, although he can be a pain in the butt when he doesn't let you have an answer to a question that is CLEARLY correct!
Moving along, there were many different questions asked throughout the night, some of them involving photographs of famous people and then having to guess who was who. There was a picture of Queen Elizabeth the 2nd, but everyone knows that the Queen is actually Albert Einstein in disguise. Towards the end of the night, as the scores were being added up and everyone was sitting, some standing with anticipation… it was time for Scott to announce the winning team of the night! The winning team won a gift basket full of useful utilities such as tea, biscuits, etc and, of course, an egg separator, because Simone clearly stated that "every woman needs an egg separator!", so that was a must have in the basket. The winning team also received a beautifully decorated chocolate cake, but before everyone started to help pack up and say goodbye to their friends, there was a raffle to be drawn. It was a fundraising event for the Year 12s to put towards their graduation. The raffle was drawn by myself (Alia) and it was really fun, especially when the winner of the raffle ran up to the mini stage I was standing on, hugged me and then calmly walked off and sat back down in her seat.
So that's about it, the only other thing I can say is that it was so much fun and I think everyone else who went or has been before would agree." – by Alia B-A (Year 8, 2013)