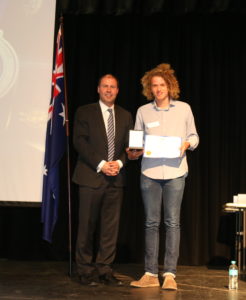 Our congratulations to Oscar, pictured above, who, along with fellow 2017 Year 12 student Nathan, was nominated for and awarded the Kooyong Student Prize, presented by the Hon. Josh Frydenberg MP. The Kooyong Student Prize is awarded for students who exemplify excellence in academic and extra-curricular pursuits, leadership amongst peers, and a strong commitment to upholding the school's values and strengthening the community at large.
Oscar has been an outstanding leader at the school since he arrived in Year 7. Oscar was a dedicated student and vocal contributor at school meetings. Oscar took responsibility for coordinating Information Nights at Alia that informed prospective families about the school. When it came to hand the responsibility to another student, he wrote an invaluable handbook that has become a reference for any student taking on the responsibility. His dedication to Alia and commitment to advancing the school's culture has meant that he has been held in high regard by his peers and teachers alike.
Nathan's open and friendly approach to everyone at Alia has endeared him to the entire school community. He spearheaded many of the sports activities at the school and has always been a willing and engaged contributor. Nathan's ability to mediate between students, especially his capacity to help connect the cohort of international students to the school community, has allowed him to flourish as a leader and be held in high regard by the students. It has also given him a platform from which to galvanise the school community to better respect the environment in which they study and become conscientious environmentalists.
Alia College congratulates Oscar and Nathan on their achievements, and their well deserved acknowledgement. Well done!